Ken Dayley Named Top Agent for United Country – Trophy Properties and Auction
Former St. Louis Cardinals Pitcher says Goodbye to 2013 at Top of the Pack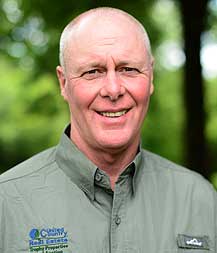 January 7, 2014 (KANSAS CITY, Mo.) – Phil Brown, Jason Cleveland and Donnie McClellan, broker-partners with United Country – Trophy Properties and Auction, have announced the company's top agent for the prior year. Ken Dayley, former pitcher for the St. Louis Cardinals, was named the top sales agent of 2013 for the St. Louis firm.
"Throughout every aspect of his life, Ken has always pushed past the limits and strived for excellence," Brown said. "We are extremely fortunate to have him as a member of our team and look forward to continued success of our entire group of real estate professionals as we enter 2014."
After appearing in four World Series during his ten-year career in Major League Baseball, Dayley became active in harvesting timber in Southern Missouri. His true passion for wildlife and the outdoors only seemed natural and solidified his next step, becoming active in selling hunting land and farms.
"There are few things that compare to the rush of pitching and the electricity of the surrounding environment," Dayley said. "However, the anticipation of harvesting that monster buck with the sound of the crunching leaves below comes in a close second. It then becomes more personal once you have been engaged in the maturing process of your own farm, setting food plots, raising habitat and quality management."
The United Country – Trophy Properties and Auction team can be contacted by phone at 855-573-LAND (5263). Their full listings can be viewed at TrophyPropertiesAndAuction.com.
About United Country
United Country Real Estate is the largest fully integrated network of conventional and auction real estate professionals in the United States and Latin America. The company has been an innovator in real estate marketing since 1925. United Country supports nearly 550 offices across the U.S., Costa Rica, Panama and Mexico, with a unique, comprehensive marketing program that includes one of the largest portfolios of property marketing websites (more than 3,500 separate sites and traffic of approximately 3 million visitors per month), multiple United Country real estate catalogs and third-party lifestyle magazines with national distribution , an extensive buyer database and other national advertising of local properties that reaches more than 90 million homes per week. United Country has recently been recognized by Franchise Business Review, AllBusiness.com, The Land Report, Entrepreneur and The Wall Street Journal as one of the top U.S. real estate companies.